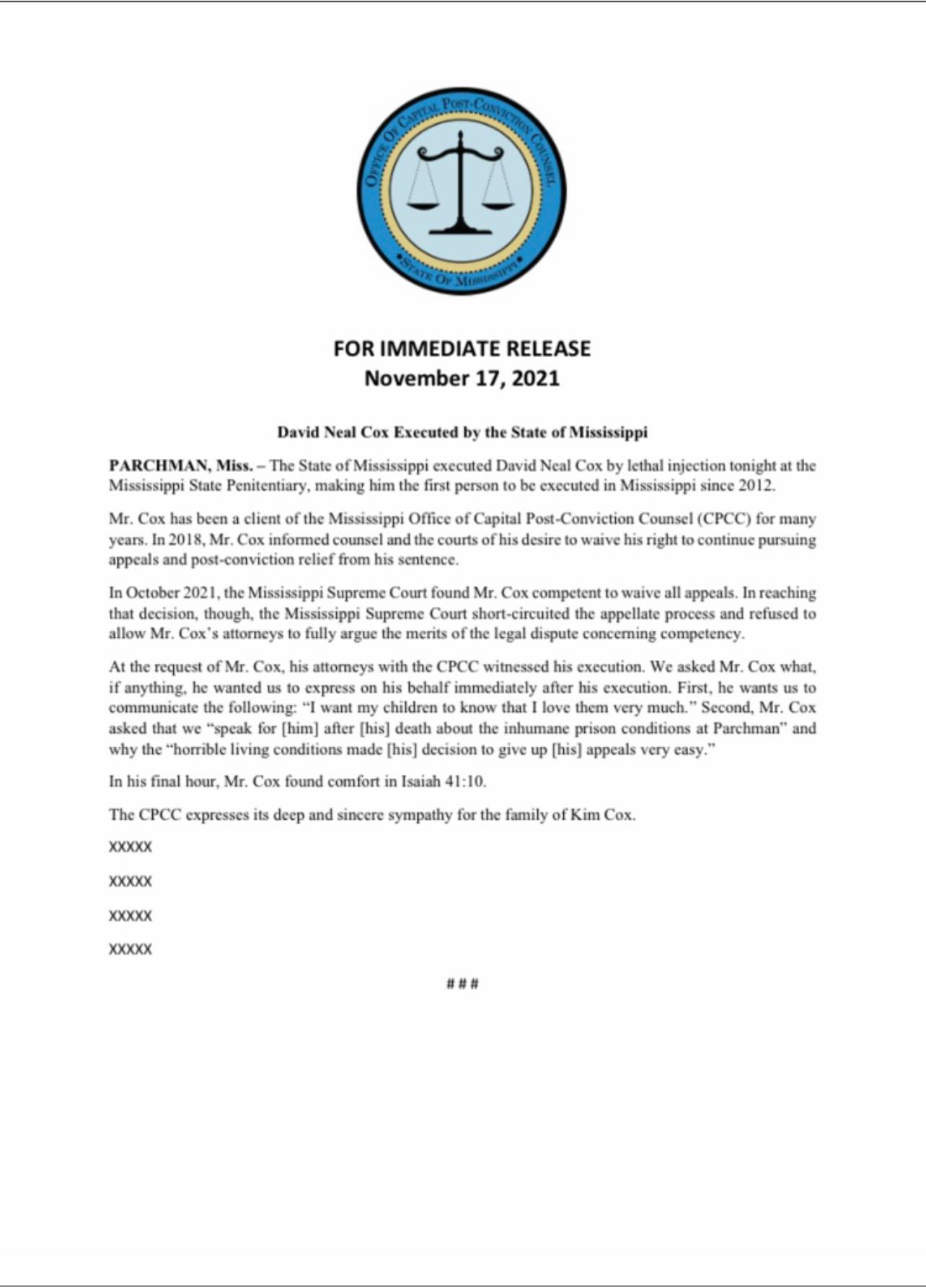 Sun, 11/21/2021 - 00:00
FOR IMMEDIATE RELEASE
November 19, 2021
David Neal Cox Executed by the State of Mississippi
PARCHMAN, Miss. – The State of Mississippi executed David Neal Cox by lethal injection tonight at the Mississippi State Penitentiary, making him the first person to be executed in Mississippi since 2012.
Mr. Cox has been a client of the Mississippi Office of Capital Post-Conviction Counsel (CPCC) for many years. In 2018, Mr. Cox informed counsel and the courts of his desire to waive his right to continue pursuing appeals and post-conviction relief from his sentence.
In October 2021, the Mississippi Supreme Court found Mr. Cox competent to waive all appeals. In reaching that decision, though, the Mississippi Supreme Court short-circuited the appellate process and refused to allow Mr. Cox's attorneys to fully argue the merits of the legal dispute concerning competency.
At the request of Mr. Cox, his attorneys with the CPCC witnessed his execution. We asked Mr. Cox what, if anything, he wanted us to express on his behalf immediately after his execution. First, he wants us to communicate the following: "I want my children to know that I love them very much." Second, Mr. Cox asked that we "speak for [him] after [his] death about the inhumane prison conditions at Parchman" and why the "horrible living conditions made [his] decision to give up [his] appeals very easy."
In his final hour, Mr. Cox found comfort in Isaiah 41:10.
The CPCC expresses its deep and sincere sympathy for the family of Kim Cox.
XXXXX
XXXXX
XXXXX
XXXXX
# # #